Defensive Driving San Marcos Texas
It is said that humans are drawn to water. This is probably why the banks of the San Marcos River are thought to among one of the oldest continuously inhabited places in America. With so many waterways like the San Marcos Springs which is responsible for creating the San Marcos River and Spring Lake, as well as the Blanco River which runs through the middle of town, and the many creeks in the area. It should come as no surprise that San Marcos was recently named the fastest-growing city in the United States.
With the growth of the city comes the need for additional law enforcement, and with more officers comes the eventual need for you to take a defensive driving San Marcos Texas course. Take a course with Comedy Driving. Not only are we approved by the TEA (Texas Education Agency). We are also the most humorous online defensive driving course in Texas. When taking a course with Comedy Driving you can take the course at your own pace. There is never a time restriction. Simply log in and logout at your leisure.
When living in a growing city such as San Marcos it is possible that your insurance rates might start to rise. Not to fret. Taking a defensive driving course with a TEA approved company such as ourselves may assist you in lowering your monthly auto insurance policy. Even if you are not able to receive a discount it is a great idea to take a course with us. We are always updating our course with the new Texas driving laws and defensive driving techniques to keep you safe on the road.
Reasons to take Comedy Driving Defensive Driving
Flexible Schedule
Email Delivery Available
Unlimited Log-ins
State Approved
No Final Exam
Animated Course
Free Audio and Video
Comedic Course
Live Phone Support
No Hidden Fee's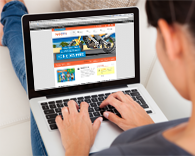 Ready to dismiss your ticket?
Comedy Driving is approved for all courts in Texas, including but not limited to, the following courts in and around the San Marcos area.

San Marcos TX Area Defensive Driving Resources


City of San Marcos Municipal Court
San Marcos Municipal Court
712 South Stagecoach Trail
Second Floor Suite 2233
San Marcos, TX 78666
512-393-8190
Monday - Friday 8:00 - 4:30

San Marcos TX Area Department Of Public Safety Offices
San Marcos DPS Office
1400 N I-35
San Marcos, TX 78666
512-353-2700
Monday - Friday 8:00 - 5:00
Social Share