Defensive Driving Freeport Texas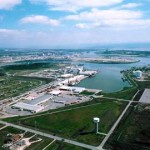 The coastal community of Freeport is celebrated for its marvelous off-shore deep sea fishing and white sandy beaches. Founded in 1912, it is one of the largest and fastest-growing water ports in the state. On the outskirts of the city, you will find the beautiful Surfside Beach, known for being the cleanest beach within 4 hours of Houston, which has numerous boating docks for the public and prestigious offshore and nearshore fishing charters.
If you find a relaxing trip to the beach to be enjoyable, you'll surely appreciate Surfside as a great alternative to Galveston. A trip to this beach has its perks; great surfable waves, free parking, horses and dogs are welcome, you can drive on the beach, little to no seaweed, no crowds or traffic to battle, and bonfires are not forbidden. Even though there are plenty of reasonably priced beach house rentals, this shoreline is perfect for camping.
Planning a trip to the beach? Most drivers may not be aware that city, state, and federal traffic laws are enforced even on public beaches. To be sure that your defensive driving knowledge base is up-to-date we offer the most entertaining defensive driving course online and in the classroom to all the seashores residents and visitors. Our Defensive Driving Freeport Texas course is produced and instructed by professional comedians, so it is just like watching your favorite cartoon! If you'd like to take the course on-the-go or at the beach, it is smart phone and tablet friendly!
Driving defensively in Texas is a skill that must be refurbished on a regular basis. Rejuvenate your driving safety knowledge today with our state-certified defensive driving class online! Friendly customer support agents are on stand-by, just call give us a call at 713-465-0042 to connect today!
Sugar Land Class Times
| | |
| --- | --- |
| Tuesday | 4:00 PM - 10:00 PM |
| Thursday | 12:00 PM - 6:00 PM |
| Saturday | 9:00 AM - 3:00 PM |
| Sunday | 9:00 AM - 3:00 PM |
Comedy Driving is approved for all courts in Texas, including but not limited to, the following courts in and around the Freeport area.

Freeport TX Area Defensive Driving Resources


City of Freeport Municipal Court
Social Share