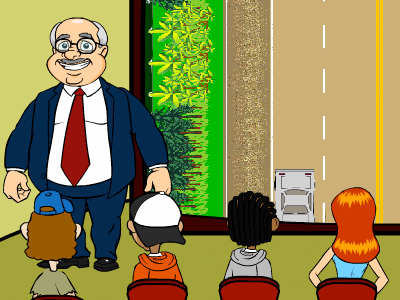 It doesn't take long for the conversation to get to, "What do you do for living?"
"Well, I'm a stand-up comedian and I teach comedy driving."
When I tell my new friend, date, or Uber driver that I almost always hear: "What on Earth is comedy driving?"
Perhaps you remember Chris Rock's guest appearance on King of The Hill as Roger "Booda" Sack teaching defensive driving in the episode "Traffic Jam" and pretty much nailing it. So, occasionally when I mention what I do for a living, somebody will bring that up. Points for good reference.
Generally people wonder what it is and how it started. This job has become my normal but to an outsider going to a 6 hour comedy show with a test at the end to dismiss a traffic ticket is a little strange.
Not all states allow you to dismiss a traffic ticket with defensive driving or traffic school, but most of them do. States like Texas and California have thriving comedy driving or funny traffic school options because residents get so many traffic tickets in those states.
So, you get the ticket. Shame on you. Now you can pay the ticket or get it dismissed. If you want to get it dismissed, you can take a class with a lot of sad videos about getting into car wrecks or (this is where I come in) you can take a super fun class with me or one of my friends and have a slightly better time.
Where did this amazing option manifest? California, of course.
Back in the day (before 1986), it was the trend that retired police officers would teach the class. Things changed when a motorcycle cop at the West Coast Traffic School happened to be pretty funny. Not a comedian by trade, he managed to get the classes laughing and interested. He was packing his classes through word of mouth alone.
Ray and Linda Regan owned this traffic school and got the idea to start hiring entertainers to teach. This lead to the opening of a new kind of instruction called Lettuce Amuse U. A great pun that truly speaks to the tradition of comedy driving schools. This was revolutionary and really took off.
"The whole focus of our class is that this is very important information," Karen Kiss, the current program coordinator told the Los Angeles Times. "We're going to do cartwheels or whatever it takes to get your attention so that you're not sitting there brain dead, bored out of your mind."
In much the same way a comic can sell out a show in a club, people used to teach defensive driving to sold out crowds of eager offenders. The comedian at that front of the room had his run of the place. This was at the beginning of a trend that didn't have that many rules (besides those pesky state regulations that nobody paid attention to). The stakes are much higher for course providers now, which you can get a taste of here.
"I'd come in hung over, put on a few videos, and take a nap in the back to sleep off the night before," one comedian from Houston told me about his days teaching defensive driving in the late 80's. He asked to remain unnamed (rightfully so). Things were much different then. Now the standards for entertainment and education are much more well enforced to keep things fun and, more importantly, legal.
There is also the legend himself, Steve Verret, who got his start at Lettuce Amuse U in 1986. He is killing the comedy driving game to this day. If you check out his Facebook page you can see that he teaches all kinds of subjects with his clean, hilarious, and group focused educational comedy.
Our goal as instructors is to make that 6 hours fly by and to keep you engaged but also to make a room full of more well equipped drivers. The jokes are fun, but most students say "I had no idea!" at traffic laws and safety tips that could really save their life. That's pretty fun, too.
There is also an online curriculum designed by comedians to meet the same need. I may be biased as an instructor, but you should attend a class in person at least once in your life. Even if it is just for an insurance discount, you'll be a more interesting person for it.
Social Share