How Do I Know if I'm Eligible for Defensive Driving?
It is always an option to contact your court and check on your eligibility for defensive driving. A few days after the citation is issued to you, they will generally have it in the system to look you up and let you know.
You can save time contacting them by looking over some of the general eligibility requirements below. If you are still unsure, it is safest to get the information from the clerk at the court or any paperwork they've provided.
Am I Eligible to Take Defensive Driving Online?
1. Citation
Be sure that your ticket is on the list of dismissable citations. Tickets for not having car insurance or leaving the scene in an accident will not be dismissed with defensive driving. Passing a school bus, reckless driving (25 MPH over the speed limit), and violations received in construction zones will also not be eligible.
You can attempt to get special permission or take defensive driving to reduce your insurance rates following the changes in your driving record that these citations caused.
2. Driver's License
A valid driver's license or I.D. number will be required. This will enable the court to verify your completion certificate matches your information. A commercial driver's licenses will not be accepted.
If you do not have a Texas driver's license, you are allowed to enter an I.D. number or out of state license number. Courses my require additional information for this option.
3. Course Enrollment
Be sure that the course is state approved for Texas. You can find the licensing information on the home page. If the license information is not available, it may not be a valid online course.
The course must be at least $25 in Texas. If a website is charging less, it may be a scam. Likewise, if the course claims to be less that the required amount of time (5 hours of material and 1 hour required break) of 6 hours total you may want to shop around some more.
Once you determine that you are eligible, you are welcome to register here.
Reasons to take Comedy Driving Defensive Driving
Flexible Schedule
Email Delivery Available
Unlimited Log-ins
State Approved
No Final Exam
Animated Course
Free Audio and Video
Comedic Course
Live Phone Support
No Hidden Fee's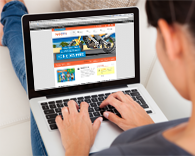 Ready to dismiss your ticket?
Social Share