5 Signs Warning for Brake Maintenance
One of the most important safety components of a vehicle is the brakes. For this reason, it is important to recognize the early warning signs that indicate when to change brakes to avoid jeopardizing the safety of yourself and other drivers who share the road with you.
On a monthly basis, you should check the appearance of your vehicle's brake pads. You can do this by simply looking through the spokes of your wheel for the outside of the brake pad which is pressed up against the metal rotor. If the brake pad measures less than ¼ of an inch in thickness, then it is time to have the brake pads replaced.
In addition, you should regularly drive your vehicle with the radio and air conditioner off in order to listen for signs of needed maintenance that you may not be able to hear while driving with the sounds of music.
Lookout for these common signs that indicate necessary brake maintenance:
1. Unusual Noise – if you consistently hear a high pitched grinding noise it most likely means the brake pad is completely worn out which consequently leads to the metal disk and metal caliper scraping against each other. The situation can become more complicated if ignored because this leads to severe rotor damage.
2. Pulling – if your vehicle seems to pull to one side when the brakes are applied it could be a sign that your brake linings have worn out unevenly or the brake fluid may need to be replaced.
3. Bad Vibrations – when you press the brake pedal and feel a vibration or pulsation this is often a sign that your rotors may be warped (this can also be a sign that the car needs a steering alignment). The vibration is caused if the brake pads are unable to grab the surface evenly
4. Fading – if you notice a reduction in stopping ability when applying the brakes this is usually a sign of brake fade, and it may also feel like your pedal is "spongy" and sinking towards the floor. Brake fading can be caused by a hose leaking air or brake fluid and there will most likely be a small yellow colored puddle present underneath the vehicle.
Many vehicle owners often overlook the condition of the braking system, which can lead to a higher risk of collision and unnecessary wearing of brake system components that lead to costly repairs. If you suspect your vehicle's brake system needs maintenance, plan to have an inspection by a professional automotive service technician to ensure proper repair and a safe driving conditions.
Reasons to take Comedy Driving Defensive Driving
Flexible Schedule
Email Delivery Available
Unlimited Log-ins
State Approved
No Final Exam
Animated Course
Free Audio and Video
Comedic Course
Live Phone Support
No Hidden Fee's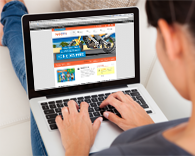 Ready to dismiss your ticket?
Social Share