Prepare Your Car For Hot Weather
Summertime is something that a lot of people look forward to, and many will also head out on vacations, travel to their summer cabin, or maybe spend evenings out with friends or family. But before you plan any of this, spare a thought for your vehicle too. It's a good time to get some seasonal maintenance work done and there is a range of things that you should schedule to prepare your car for hot weather to ensure that it operates in peak condition of the hot summer months.
Cooling System: The cooling system of your vehicle is crucial for summer driving- its main function is to keep the engine cool. It has to be able to maintain a steady 200° Fahrenheit to maintain efficiency in fuel combustion, effectively protect your car's engine against any corrosion & maintain proper oil-viscosity.
However, when the weather is very hot, the coolant temperature may touch 250° and this could overheat the car. This is exactly why you will have to focus a little more on the cooling system in the summer. Check the radiator & hoses for cracks or leaks and ensure that all the connections are fitted properly. The coolant level should be maintained at half level.
Air Conditioning: Inspect the air conditioning system for damaged or worn out belts. This belt drives the compressor and if this is broken, you will not have any air conditioning in your car. Inspect the condenser fins and clear them of debris (if any), and the refrigerant will be able to perform its cooling job in a better way.
Summer Tread: Switching to summer tires will ensure you get better handling, more speed & much better fuel efficiency. These tires have a much shorter sidewall & a less aggressive tread. Alternatively, you could opt for all-season tires too.
Brakes: Thunderstorms are not uncommon in the summer and it's important to have brakes that work perfectly. Get these checked from a skilled mechanic. Hot weather tends to increase the brake system's temperature and the brake pads wear out quicker. It's best to get those checked too.
Reasons to take Comedy Driving Defensive Driving
Flexible Schedule
Email Delivery Available
Unlimited Log-ins
State Approved
No Final Exam
Animated Course
Free Audio and Video
Comedic Course
Live Phone Support
No Hidden Fee's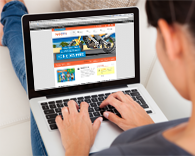 Ready to dismiss your ticket?
Social Share