The National Joint Committee on Uniform Traffic Control Devices set up national standards for road signs. These signs give messages through symbols. You should be able to understand the symbols and follow road signs wherever you drive. The color and shape of a sign enables you to recognize from far away what a sign means. A diamond-shaped sign warns of possible danger ahead.
The color orange is used to inform a driver of a detour or road construction. So an orange, diamond-shaped sign warns of a detour or road construction ahead.
Signs that indicate you should "stop" or "yield" are red. Coming to a complete stop is mandatory. Whether you are riding a bicycle, a motorcycle, or driving a truck, a tractor, or a car, you must come to a complete stop. If the stop is a four-way, everyone who is in the intersection must stop. However, the first vehicle that arrived at the intersection has the right-of-way.
The "yield' sign cautions you to slow down and prepare to stop. You must allow the other vehicles you see to pass, regardless of whether they are bikes, vehicles, or pedestrians. You must stop completely if road conditions warrant it.
Texas Road construction signs are orange. Their function is to inform you that crews are out doing road repair on your street. They will inform you of a detour that you must follow, or that due to the road work you must turn back, as there is no way out. Pay attention to the presence of road crews. Fines are also doubled in construction zones if workers are present. So when you see this sign, you should begin slowing and be prepared to stop.
TexasRegulatory signs are white. Regulatory signs inform you of the laws that you must obey. A few examples are speed limit signs, "Red Light Photo Enforced" signs, and railroad crossing signs. When you see an encircled red arrow through one of these signs, it means whatever activity the line crosses out is forbidden. For example, if you see a white sign with an encircled arrow through a bike, that means that bicycles are not welcome in that zone.
Warning
Yellow signs are warnings in Texas. They may inform you of slippery roads or that a school zone is nearby. That tells you to look out for school children and their parents walking across the street just before and right after school hours. In the case of the "slippery when wet" sign, you should slow down and take extra care when it's raining or snowing on that roadway
Reasons to take Comedy Driving Defensive Driving
Flexible Schedule
Email Delivery Available
Unlimited Log-ins
State Approved
No Final Exam
Animated Course
Free Audio and Video
Comedic Course
Live Phone Support
No Hidden Fee's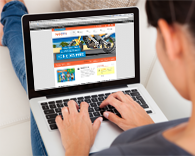 Ready to dismiss your ticket?
Social Share