3 Texas State Laws that Relate to Cell Phones and Driving
Though there is a statewide law that prohibits hand-held cell phone usage while driving, you still find people everywhere of all ages, texting while driving. But you may just find yourself slapped with a hefty fine if you do this now in 2 big Texas cities. New ordinances have just gone into effect in Austin and San Antonio. Austin's law now prohibits the use of all electronic hand-held-devices while driving and riding a bicycle. In San Antonio, you aren't allowed to drive whilst using any device to talk or text.
Using cell phones while driving is a very common occurrence and is a highly debated and controversial topic. Texting or talking on a cell phone while driving is one of the major causes of crashes in the U.S. It distracts the driver which increases the chances of an accident taking place. This is exactly why many governments are now looking to make it illegal to use cell phones while driving.
Some Facts
Annually, over 330,000 people in the U.S sustain injuries in accidents caused by distracted drivers
One in 5 crashes involved driver-distraction
Drivers who use mobile phones while driving are at a significantly higher risk of collision compared to drivers who don't.
The Laws
Currently, local jurisdictions decide their own laws with reference to driving and using a cell phone. In Texas, there are 3 types of State Laws related to Cell Phones and Driving:
Ban on all the uses of wireless communication devices while driving
Ban on texting and other manual uses of any wireless communication device while driving
Ban on texting while at the wheel
The Prohibitions
Despite the fact that there is no Statewide Laws when it comes to cell phone usage while driving, there are certain laws that drivers have to adhere to:
Drivers who have learners permits are not permitted to use handheld cell phones in the first 6 months of driving
Drivers below 18-years of age are prohibited from using any wireless communications devices
School bus-operators are prohibited from using their cell phones while driving when children are present in the vehicle
In school zones, drivers are prohibited from texting and using handheld devices while they are at the wheel
It's unfortunate that people continue to use cell phones while driving and do not follow the laws in the State. And maybe bans are the only answer to getting people to toe the line.
Reasons to take Comedy Driving Defensive Driving
Flexible Schedule
Email Delivery Available
Unlimited Log-ins
State Approved
No Final Exam
Animated Course
Free Audio and Video
Comedic Course
Live Phone Support
No Hidden Fee's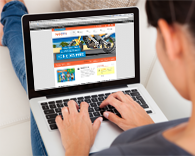 Ready to dismiss your ticket?
Social Share