The Texas point system was originally conceived to track a driver's citations in a consistent manner. A set number of points were assigned to a person's driving record when certain traffic laws were violated.
In Texas, this system is also called the Driver Responsibility Program. The Driver Responsibility Program is a way for the state to increase its income by fining drivers who have accumulated a certain number of points. These drivers must pay an additional penalty every year for up to three years.
One moving violation assigns two points to their record. A moving violation that results in an accident results in three points being assigned to their record.
If the driver accumulates 6 or more points then he or she would have a pay a reinstatement fee to the state in order to ensure their driver's license remains valid. Also, four moving violations in twelve months or seven moving violations in twenty-four months can get your license suspended.
This article was composed and written by Comedy Driving, Inc, a Texas Defensive Driving School
Reasons to take Comedy Driving Defensive Driving
Flexible Schedule
Email Delivery Available
Unlimited Log-ins
State Approved
No Final Exam
Animated Course
Free Audio and Video
Comedic Course
Live Phone Support
No Hidden Fee's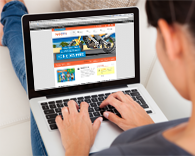 Ready to dismiss your ticket?
Social Share