How to Get Your Texas Drivers License
If you need to get your Texas driver license, there a few steps you'll need to take before hitting the open road. The state of Texas requires applicants to meet a few requirements prior to being approved.
Before heading over to the DMV you'll want to make sure you have all of the proper documentation in order to verify your identity. If you're under 25 years of age you will be required to complete a driver's education course certified by the Texas Education Agency, and complete the Impact Texas Teen Drivers (ITTD) program.
Once you have successfully completed a driver's education course and received your certificate of completion for the ITTD program you'll need to prepare for the written exam at the DPS. The best material to study is the information found in the Texas Driver Handbook, which can be obtained for free at your local DPS office. There are also a variety of practice tests available online.
Once you have passed the written exam, you will need to accomplish the behind-the-wheel test at the DPS office to evaluate your driving skills. On the day of your driving test, be prepared to provide proof of liability insurance.
Now, you are ready to submit an application for your driver's license. You will be required to submit the application in-person at your DPS office along with proof of vehicle registration and liability insurance. At this time, you will also need to pass a simple vision exam. If necessary, be sure to bring your prescription contacts or eyeglasses.
The process of getting your Texas Driver License can seem overwhelming at first, but it can be a lot less complicated if you break down and organize the procedures into a step-by-step process.

Reasons to take Comedy Driving Defensive Driving
Flexible Schedule
Email Delivery Available
Unlimited Log-ins
State Approved
No Final Exam
Animated Course
Free Audio and Video
Comedic Course
Live Phone Support
No Hidden Fee's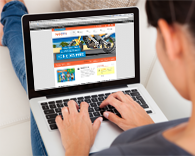 Ready to dismiss your ticket?
Social Share