The school bus is about 9 times safer than other forms of transportation (School Transportation News) according to the federal government.  An estimated 26 million students attending elementary and middle schools ride school buses to and from school to their homes on a daily basis (School Transportation News). That's a vast majority of the nation's children that ride the school bus at least twice on a daily basis. The FARS (Fatalities Analysis Reporting System) reported the following rates in accordance to school bus occupant fatalities; in 2010 there was a total of 14 fatalities, in 2011 there was a total of 9 fatalities, and in 2012 there was a total of 12 fatalities (NHTSA). In comparison to past fatalities, rates have decreased over the years. Back in 1975, annual school bus fatalities were up to 75 per year (School Transportation News).
Although the current rates of fatalities related to school bus accidents are low, they can still be reduced and future school bus accidents can be prevented.  This can be achieved by providing more education about school bus safety to other drivers on the road, parents, and children. A good starting point and a few key points regarding school bus safety are:
Other drivers on the road: Remember that you may be able to see the bus but the bus driver may not be able to see you at all times. Also, be considerate and watch your speed limit in school zones and nearby school bus loading stops.  Keep your distance when driving next to or behind a school bus at all times; most school buses make frequent stops.  Always be alert for any flashing lights; school buses use their lights to warn other drivers on the road. Flashing yellow lights indicates the bus is coming to a stop and other vehicles on the road need to slow down.  Flashing red lights and the stop sign that comes out from the left side of the bus indicates the bus is at a full stop with children exiting the bus. You must make a complete stop and wait until the lights go off again before you can proceed to move forward.
Children riding the school bus: Children are taught safety rules and guidelines of riding a school bus early in elementary, as well as it is part of a school bus driver's routine early in the school year to impose and explain to children the importance of following the safety rules. More than anything, it is imperative for students to remain seated at all times unless otherwise instructed. "Federal Safety Standard No. 22" is called the "School Bus Seating and Crash Protection" which indicates school buses must be manufactured to provide protection for occupants without the need of seatbelt use; for this to be possible occupants must be properly seated at all times (NHTSA).
Parents of children: As a parent, please teach your children the importance of common-sense practices and regulations of riding a school bus, as well as listening to bus driver instructions.
Reasons to take Comedy Driving Defensive Driving
Flexible Schedule
Email Delivery Available
Unlimited Log-ins
State Approved
No Final Exam
Animated Course
Free Audio and Video
Comedic Course
Live Phone Support
No Hidden Fee's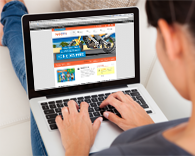 Ready to dismiss your ticket?
Social Share