There is a new trend, a brand new invention, a better way to commute with no sweat. We are not conversing about a vehicle equipped with strong air conditioning, a nice drop-top convertible or the vehicle windows being down to let the fresh air in. Oh no, we are speaking about a bicycle built to make bicycling life a little easier, healthier and a lot more fashionable with technology.
We are now used to the world of "smart" items such as a smartphone, a smart TV, smart washer/dryer and even a smartwatch that can even be used for a phone call. We've come a long way in the world of technology and now companies are working on smart bicycles. That is correct, smart bicycles are on the way to your neighborhood, across the United States, and to the whole world. What can a smart bike do? For starters, you no longer have to pedal if you do not feel like pedaling. No one wants to ride their bicycle to work when the weather is hot because you would show up sweaty, smelly, tired and not to mention you may have a bad attitude. No worries, just push a button or give a command and the bicycle is now automatic.
Have you been distracted while riding a bicycle and you accidentally hit or run into a curb, person, tree or vehicle? This is no longer a problem with a smart bicycle; the bicycle will notify the rider of an upcoming pothole, tree or some other structure that might be considered a danger in your path. The handlebars vibrate alerting the rider to be aware of an upcoming possible accident.
Would you like to know how many calories you are burning while riding a bicycle or would you like to know your current heart rate or better yet what about how far you have traveled? The smart bicycle can pair with your smartwatch to give you all of the details.
There are a tremendous amount of reasons to fall in love with a smart bicycle. Just remember that bicyclists are under the same rules and regulations as a motorist. So if you end up getting a traffic ticket by running a stop sign or turning without signaling just give our company a call at 713-465-0042. We can help when it comes to your ticket dismissal needs.
Reasons to take Comedy Driving Defensive Driving
Flexible Schedule
Email Delivery Available
Unlimited Log-ins
State Approved
No Final Exam
Animated Course
Free Audio and Video
Comedic Course
Live Phone Support
No Hidden Fee's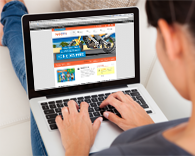 Ready to dismiss your ticket?
Social Share