Defensive Driving Texas Comic "Slug Bug"
Comedy Driving, Inc. Presents a Defensive Driving Texas Comic "Slug Bug" illustrated by Angel
Who remembers the days of riding around in the back seat of mom and dad's car and slugging their little brother or sister every time they saw a Volkswagen Beetle aka "Slug Bug"? It didn't matter if you were on a road trip or just a quick run to the store if you saw that bug, someone was certain to yell "Slug Bug" followed by a punch to the shoulder. While we might not be kids anymore, who's to say we can't still have a little fun!? Share this to your social media and "TAG" someone that you used to play "Slug Bug" with and give them a digital "Slug" just for old time's sake! If you get slugged, then pass it on and slug someone else! Keep it friendly and if you're on the road, remember, you should never slug your driver!
Reasons to take Comedy Driving Defensive Driving
Flexible Schedule
Email Delivery Available
Unlimited Log-ins
State Approved
No Final Exam
Animated Course
Free Audio and Video
Comedic Course
Live Phone Support
No Hidden Fee's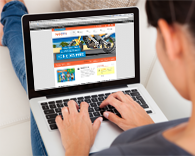 Ready to dismiss your ticket?
Social Share