Defensive Driving Clear Lake Shores Texas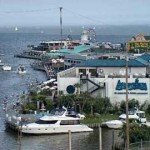 Clear Lake Shores is famed as "The Yachting Capital of Texas" on account of the community holding more boat docks than people. By its very nature, the city has more weekend residers than permanent due to the waterfront vacation-style properties which accommodate a large number of water-based recreational activities, although yachting is mostly favored. This island entertains its sense of unique character as its main method of transportation is by golf carts, which are usually customized and personalized; representing the lively spirit of the locals.
Although a golf cart may not be registered with the Texas Department of Motor Vehicles, it is considered a vehicle in terms of traffic law. In most situations, golf-carts and other slow-moving vehicles are not permitted to travel over 35mph on roadways, however, it is still possible to be issued a traffic violation by law enforcement as they are subject to the same rules of the road as automobiles. If you have been issued a ticket, our defensive driving course is approved for ticket dismissals in all Texas courts. Similarly, our course can also help prevent you and your family members from receiving a ticket by improving your driving safety expertise.
Our League City Defensive Driving Classroom location is only a short 15-minute drive from Clear Lake Shores. Each class is amusingly hosted by professional comedians who captivate your attention while you learn about the newest techniques in driving defensively. For just $35 you can attend any of our classes for an insurance discount or ticket dismissal! If you wish to take the course online, it is fully animated like a cartoon! You are able to log in and out of the course to take it at your own pace, and it always saves your progress. The online course can also simply be taken from your smartphone or tablet if you prefer! Our course, online and classroom, is 100% approved by the state of Texas for ticket dismissals!
Contact our customer care agents today at 713-465-0042 with any questions you may have!
League City Class Times
| | |
| --- | --- |
| Wednesday | 4:00 PM - 10:00 PM |
| Friday | 9:00 AM - 3:00 PM |
| Saturday | 9:00 AM - 3:00 PM |
| Sunday | 9:00 AM - 3:00 PM |
Comedy Driving is approved for all courts in Texas, including but not limited to, the following courts in and around the Clear Lake Shores area.

Clear Lake Shores TX Area Defensive Driving Resources


City of Clear Lake Shores Municipal Court
Social Share