SO, YOU HIT A PARKED CAR
What should you do if you hit a parked car? Do you leave your phone number? What is the Texas law for a hit and run? Do you drop your insurance information? Do you assume nobody saw you and just hope for the best?
First of all, congratulations on getting into an accident with a vehicle that wasn't even moving! You have proved that, while it may be difficult, it isn't impossible.
Surprisingly, this is a common type of collision, which is probably why it's clearly outlined in Texas state law. The first step after hitting a parked vehicle is to see if there is a person in the other vehicle. If there is no one in it you fall under "striking an unattended vehicle" territory, which is arguably the better territory to be in.
STRIKING AN UNATTENDED VEHICLE
It is your legal responsibility to attempt to find the owner. If you've knocked on every door and loudly asked the whole restaurant you came out of, and still cannot find them, it's also acceptable to leave a conspicuous note. That means the note is visible and secured to the vehicle. State law states you must include in the note your name and address of the operator/owner of the vehicle, and the circumstances of the collision. However, it is also recommended that you leave your phone number.
Just because you could not find the driver of the vehicle does not mean you are off the hook.
In addition to the weight on your conscience, Texas does have laws about striking unattended vehicles. So leaving the scene after hitting property, like a road sign, a mailbox, or even a lawn gnome, can result in misdemeanor charges.
So, what do you do if you bump into an unattended vehicle and you are, like, 89% sure nobody saw it happen? Well, you should still do the right thing!
It's called the "Duty on Striking Unattended Vehicle" law, and it gets more serious as the damage costs increase. It is your duty to make sure that the driver is able to reach you in reference to the damages. Simply put, if you own up to being the reason for that new dent in their vehicle, it will cost less for you in the long run. If the cops have to track you down based on witness testimony or security footage, there will be much more severe consequences.
While striking an unoccupied vehicle, knowing the steps to take can keep you safe from harmful mistakes. After all, someone that can get into a vehicle collision without help from the other vehicle, needs all the help they can get!
RENDERING AID
Let's say you check for a person in the car and (whoops, this is embarrassing) there is somebody in there!
Things get more serious when the vehicle happens to be attended. Hit and run charges are far more likely if you try to bail on the occupant of the vehicle you just hit, and increase the severity of the situation.
The concept of Rendering Aid is designed to provide accountability for collisions, and prevent unnecessary fatalities or injuries. The external accountability of laws like this can help reduce the overall amount of hit and runs.
If a driver strikes a vehicle or pedestrian, and does not offer them reasonable assistance as outlined by law, they can face legal repercussions far more expensive than being named at fault by an insurance company. These consequences worsen in the event of severe injury or death.
The "render aid" laws are designed to keep shady people from pulling deadly stunts, such as leaving someone injured at the scene of a collision.
Recap of what you should do if you hit a parked car:
1. It is your legal responsibility to attempt to find the owner.
2. If no one can be found, It is your duty to make sure that the driver is able to reach you in reference to the damages.
3. Leave a note with the name, address, circumstances of the collision, and your phone number. If you do not own the vehicle, leave the owner's information as well.
4. If the vehicle was attended, render aid if needed.
a.  You must give them your name and address, the registration number of the vehicle, and the name of the your liability insurer to any person injured or any occupant of the vehicle involved in the collision.
Reasons to take Comedy Driving Defensive Driving
Flexible Schedule
Email Delivery Available
Unlimited Log-ins
State Approved
No Final Exam
Animated Course
Free Audio and Video
Comedic Course
Live Phone Support
No Hidden Fee's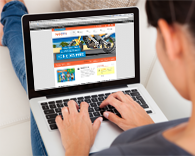 Ready to dismiss your ticket?
Social Share