290 Elevated Bypass That Hopes To Simplify Travel
Construction has already begun for the 290 elevated bypass that hopes to simplify travel for drivers on Highway 6. The bridge will begin south of North Eldridge Parkway and enable cars to skip over Wortham Blvd., HWY 290, Hempstead Rd., and Jackrabbit Rd.
By providing a way over 290, the traffic will streamline and reduce congestion in that area. Ramps will allow drivers to bypass those intersections completely and there are still frontage roads for drivers that want to access the side streets or afraid of heights.
There is a traffic signal at an interchange that has been managing the traffic to the best of it's ability but, due to population increase and the overall stress of being in such close proximity to 290, that traffic light has not been keeping up with the job.
TxDOT promised us to expect no more than a one-lane closure during the relocation of the utilities and they are trying to keep the impact on traffic flow at a minimum. We've all heard that before, but hopes are high that the resulting bypass will be worth the traffic it causes in the meantime.
Reasons to take Comedy Driving Defensive Driving
Flexible Schedule
Email Delivery Available
Unlimited Log-ins
State Approved
No Final Exam
Animated Course
Free Audio and Video
Comedic Course
Live Phone Support
No Hidden Fee's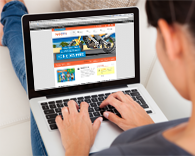 Ready to dismiss your ticket?
Social Share