The lowest priced Online Defensive Driving Texas Course
for ticket dismissal class!
This Includes:
24/7 Technical and Instructor Support


6 Hours of the Comedy Driving Texas Defensive
Driving Course (5 hours of class time with an 1 hour break)


Certificate of Completion put in the mail within 1 business day!


Two copies of Certificate of Completion, one for court, one for insurance


Unlimited Log-ins and Log-outs


No Reading


Exam Questions asked at the end of each Chapter so the answers are fresh on your mind.


Texas State approved for ticket dismissal.


Entire course is animated (more animation than any other online course)


This course has more humor than any other online course


Boss Button - a quick exit out of the course... in case the boss walks into the room


Now you can take our Texas Defensive Driving course on your iPad, iPhone4, iPod Touch, and Android tablets and phones!


When deciding to take a Defensive Driving Texas course Comedy Driving offers it to everyone 24 hours a day, 7 days a week online. This course allows you to receive a certificate in the mail that is approved by Texas Education Agency and Region XII which does not allow your ticket to have any effect on driving history. Being an online course there is a need for customer support around the clock and Comedy Driving Inc. offer it 24 hours a day, 7 days week with representatives standing by to help you throughout the 6 hours course. Start taking the Texas defensive driving course at comedydriving.com and print your driving record right after that with the link provided by comedy driving.

Texas Defensive Driving is offered online by Comedy Driving Inc. They are approved by the Texas Education Agency (TEA) and Region XIII approved this insures that the citation that you have received will be removed from your driving history. Taking an online defensive driving course allows you take it anywhere in the country with internet service. This course is 100 % educational and sure to make you laugh for six hours straight. The cost of a defensive driving course is only 25 dollars with comedy driving and certificates are received in two three business days. Get an entertaining learning experience today by signing up today at Comedydriving.com

Taking a Texas Defensive Driving course in Houston is accessible than any other company. Comedy Driving Inc. now has 5 different locations where you can take a defensive driving course in person. The hours and days are convenient and where designed to fit your work schedules. There is no appointment needed simply walk in to any of our 5 locations during our normal hours of operation. If you need directions to any of our defensive driving classrooms simply call us we have a representative standing by to help. Visit our website by going to comedydriving.com for locations and times of defensive driving class.

Texas Defensive Driving Safety courses can easily be accessed 24 hours a day, 7 days a week through comedydriving.com. This safety driving course is Texas Education Agency approved and is one of the best ways to surely get a traffic violation dismissed. Comedy Driving, Inc. has 24 hour customer support and also has instructions on their website to obtain an official Texas violation driving history record. Other Texas traffic schools charge additional to obtain these driving records, but Comedy Driving, Inc. provides customers with a link to the Texas website directly. Call them now with any questions.

ONLY 5 HOURS OF ACTUAL CLASS TIME PLUS A ONE HOUR BREAK
(YOU MAY TAKE YOUR BREAK ANYTIME)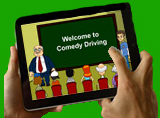 NOW COMPATIBLE WITH IPAD, IPHONE 4, IPAD TOUCH AND ANDROID DEVICES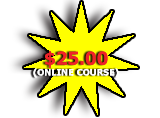 THE MOST FUN
ALLOWED BY TEXAS LAW