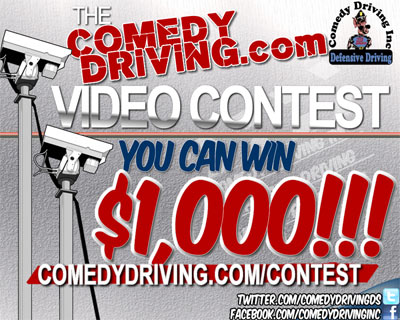 2013 Official Contest Rules
(videos must be submitted before 12-31-13)
NO PURCHASE NECESSARY. A PURCHASE WILL NOT IMPROVE YOUR CHANCES OF WINNING. HOWEVER IT WILL MAKE OUR ACCOUNTANTS HAPPY!
First Place $ 1,000.00

Second Place $ 500.00

Third Place $ 250.00

Fourth Place $ 150.00

Fifth Place $ 100.00

Entrants must submit an original video ranging from 1-5 minutes in length reviewing how the Comedy Driving online or classroom course saved your life. Here are some additional requirements:
Video should be created after May 15, 2013
Length should be from 1 to 5 minutes
Topic/Material must be a Review of how Comedy Driving saved your life. It can be serious or ridiculously funny.
Include a Title at the beginning, before the video starts
Conclude with the Director's / Producer's name
Include Actors names and role in the credits
Include contact information with submission
The content should be original and have not been submitted to any other contest.
Work to be created or compiled by the person or group entering the video and not contain credits, company names, logos, trademarks, or watermarks
Here is an Example Video: "How Comedy Driving Saved My Life!"
In addition any contestant's original video idea that is utilized by Comedy Driving Inc. on their educational website, in whole or in part, will receive a payment for such services in the amount of $50.

Please be advised once media content is submitted into the contest, it becomes property of Comedy Driving Inc. At that point any creative content / original ideas / /images of the videos can be utilized to enhance Comedy Driving Inc's existing educational online platforms. Comedy Driving Inc. will only be uploading the most engaging media content online so please send us your best stuff! Contest entries with questionable content may be rejected, meaning any content that violates Comedy Driving media policies will be deemed ineligible.This includes but is not limited to the following:

The video should convey effective ways to improve driver safety for Texas drivers and may not contain any work (in whole or in part), which is the subject of a copyright or infringes the intellectual property rights of any third party. Video must not include anything that is inappropriate for publication (such as, profanity, nudity, pornographic, graphic or sexually explicit content, hate speech, illegal conduct, animal abuse, drug abuse, any form of racism or gratuitous violence). Video must address the contest theme and must not have been submitted to any other competition or contest, or have received an award prior to submission as an entry in this contest. Video must be the original work created on or after May 15th, 2013.

Acceptable Formats & Hard Copies
Video Format
Comedy Driving will be uploading all acceptable media content to the Comedy Driving Youtube channel.

Be advised Comedy Driving aims to showcase only the most entertaining, educational and humorous videos online.

The best image format is dot.mov file or dot.mp4
Hard Copies
External Hard Drive

Memory Stick

Data CD/DVD

E-mail (if file is small enough) submission@comedydriving.com

Contest Deadlines

Winners will be announced on - January 31, 2014 on the Comedy Driving Facebook Page. For any questions or concerns contact us via email at jeff@comedydriving.com or comedydriving@comedydriving.com

The Comedy Driving management team will judge video entries on the effectiveness of the review (25%), popularity (25%), creativity/originality (25%); and humorous content (25%)
To enter the contest, access the website www.comedydriving.com/contest during the contest period, complete the official entry form that is located on the bottom of this page and submit the video as directed. Entry must be submitted no later than 11:59 PM Central Time on December 31, 2013. There will be a limit of five entries per person. Entries become the property of Comedy Driving Inc. and will not be returned.

The judges will select ten (10) finalists, which will then be posted on the website, the Facebook* profile and the YouTube* profile for the Contest. Sponsor and its agencies disclaim any and all liability in conjunction with the posting of finalist videos, including but not limited to the quality of finalist videos as posted or the positioning of finalist videos on Facebook and YouTube website. Those selected, as finalists will be notified via email. The top 10 finalists' videos will be available for voting by the public to gage the interest of the work.


The winners will be paid via check and a1099 IRS Form will be issued to U.S. winners.

A traceable form of delivery and e-mail or telephone will notify the finalists. Each finalist will be required to provide within a specified time period, a photocopy of a valid driver's license and a completed and signed liability, publicity, and waiver release of all participants involved in the short movie (except where prohibited). A publicity release or as determined by Sponsor, an assignment license release, must be provided to Comedy Driving Inc. of all rights of ownership and copyright to the submitted video by which consent is given for Comedy Driving Inc. to use the video in whole or in part and as edited by Comedy Driving Inc., in all media for educational, commercial and other uses without additional compensation. In addition a separate Talent Release Form by each individual appearing in the video is required along with the submission. Failure to return the required documents in a timely way, or the return of any notification as undeliverable for any reason, will cause the entry to be void and an alternate finalist to be selected. If a finalist (or any individual appearing in a video) is a minor, all relevant documents must be confirmed, ratified and signed by the parent or legal guardian of the individual signing the document(s).

By participating, entrants (if a minor, his/her parent or legal guardian): (a) agree to these Official Rules and to the decisions of the Comedy Driving Inc. judges and its agents in all matters, including the voting process, relating to the contest, which decisions shall be final and binding in all respects; (b) release, indemnify and hold harmless Comedy Driving Inc. respective directors, officers and employees, from any and all claims, liabilities, losses or damages of any kind whatsoever (including but not limited to the infringement of intellectual property or other rights of third parties or any liability as to failure of Comedy Driving Inc. or its agents to screen or monitor finalists' videos prior to posting online) resulting in whole or in part from their participation in the contest and the acceptance and use of any prize; (c) if a winner, consent (except where prohibited by law) to the use of their name, likeness and location for advertising and publicity purposes by Comedy Driving Inc., in its sole discretion, of its products and services and for promotion of comedy and driving safety; and (d) represent that the video submitted is their sole and original work and does not infringe the intellectual property right of any other party. Participants (if a minor, his/her parent or legal guardian) agree that the Sponsor i.e.(Comedy Driving Inc.) and its agents are not responsible for late, lost or misdirected entries or mail, or for error, omission, interruption, deletion, defect, delay in transmission, theft or destruction or unauthorized access to or alterations of entry materials, or for technical, network, computer, hardware or software malfunctions of any kind, or inaccurate transmission of or failure of Sponsor and its agents to receive entries for any reason whatsoever or for any errors, mishaps or problems, regardless of the cause, in the voting process. In the event Sponsor determines that the integrity of the contest has been impaired or corrupted for any reason and as a result cannot be offered or completed as planned, Sponsor (subject to any governmental approval that may be required) reserves the right in its sole discretion to cancel or terminate the contest and to select finalists from among eligible entrants legitimately received prior to the event causing cancellation or termination or otherwise in a manner determined by Sponsor in its sole discretion to be fair, appropriate and consistent with these Official Rules; and notice of cancellation will be posted at www.comedydriving.com/contest. Should the Sponsor and judges, in their sole discretion, determine that there are insufficient entries worthy of being selected as a finalist, they reserve the right to select less than ten (10) finalists; and in such event the dollar value of the finalist prizes not awarded shall be applied by Sponsor to the promotion of driving safety with comedy. The Contest shall be governed by and interpreted under the internal laws of the State of Texas (that is, excluding choice-of-law/conflict-of-law principles) for the contest in the United States. Any legal action concerning the Contest in the USA shall be brought only in a state or federal court located in Houston, Texas. In all circumstances, a legal action must be brought individually, NOT as part of a class action and the participant (if a minor, the participant and/or his/her parent or legal guardian) will only be able to recover his/her actual out-of-pocket costs (if any) in conjunction with participation in the Contest and expressly waives any right to all other damages (including but not limited to compensatory, incidental, consequential or punitive damages).

Reminder to Respect for Existing Copyright:
You must be the original author of everything in your video or have permission to use copyright protected material. Be creative, but think carefully about what you put into the video. If you are considering using existing music, video clips, photos, etc., it is very likely that someone else owns a copyright to that material. In this case, be sure to obtain the copyright owner's written permission before using the material in your video.

Reminder to provide a consent from Actors in Your PSA:
Winning participants must declare that they have written consent from people featured or identified in their video. Please Note: consent requirements may vary from state to state and each participant is responsible for complying with state consent requirements.
*Employees of Comedy Driving please see management for details.
Comedy Driving Inc. is a driving safety and defensive driving course that offers training online and in the classroom in Texas.
Documentation:
Official Rules | Contest Entry Form | Appearance Release Form